ADAPT Nutrition Testo+, what's new?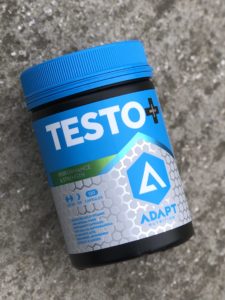 Testo+ the new and improved version!
As with all of our products, we're constantly looking at new research and new ingredients to see where and if we can improve our current range of products.
Testo+ is no exception.
So how have we improved an already outstanding Testosterone Support formula? Here's the answer.
600mg of KSM-66 Ashwagandha; 
We used the patented version of Ashwagandha due to it containing the highest levels of withanolides (the active ingredients in Ashwagandha). 
The benefits of using KSM-66 are as follows;
* Helps promote a healthy response to everyday stress, over-work and fatigue
*Helps support normal levels of mental clarity, concentration and alertness 
* Helps support normal levels of vigor and performance
* Helps enhance sports performance
*Can reduce anxiety and depression
100mg Ginger Root extract;
We've added a potent Ginger extract due to its powerful effect on lowering inflammation and boosting natural testosterone production. In one study 75 infertile men were given a Ginger supplement. After 30 days, on average, the subjects had experienced a 17% rise in circulating testosterone and their levels of LH (lutienising hormone) had almost doubled.
Vitamin B6 as Pyridoxal-5-Phosphate; This active form of Vitamin B6 is much more bio-available . Vitamin B6 is vital for shuttling certain nutrients (such as magnesium) across cell membranes, increasing absorption. We had Vitamin B6 in the previous version, but just changing the form of this nutrient, over time, can make a big impact.
These 3 significant improvements are in addition to the D-Aspartic Acid, Fenugreek (as 4-hydroxyisoleucine), White button Mushroom extract, Vitamin D3, Magnesium, Zinc, Copper & Boron already in the TESTO+!
It is a potent 11 ingredient testosterone support formula, properly dosed with effective ingredients to improve athletic performance.