Why is AdaptoLean so effective?
By Adapt Athlete Dan Walls…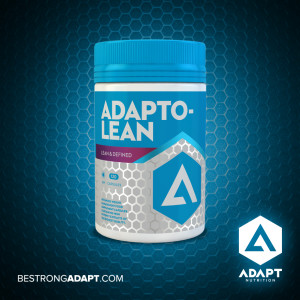 AdaptoLean
With all the bad press surrounding weight loss pills and fat burners for their alleged adverse health benefits, we at Adapt Nutrition find we have a duty of care and responsibility to reassure and educate our customers on the vast amount of health benefits you may experience using our 5 star rated fat burner AdaptoLean.
First off I would like to say that illegal and unregulated weight loss products can and have been found to have adverse health benefits. This is why all of Adapt Nutrition's products are EU regulated and every single ingredient is listed with the dosage, so you know exactly what and how much you're taking.
With the competition season in full swing and summer just round the corner everyone is looking for a safe and effective fat burner. A lot of people just opt for effective, this is where the problems happen, these unregulated products could leave you seriously ill if miss used. This could put your health at serious risk, keep you out of competition or sometime even make you look worse
For those people wanting effective but safe you need to look no further. AdaptoLean is formulated using 12 specific plant, vitamin, mineral and herbal ingredients that are noted for their potent effects. The ingredients in AdapoLean were handpicked to cover all bases for optimal fat burning, strong focus, fat mobilisation & oxidation, increased metabolic rate and increased insulin sensitivity.
Let's take a look at just a few of the ingredients individually….
Garcinia Cambogia
This is a small sweet tropical fruit which naturally contains Hydroxycitric acid or HCA. HCA blocks an enzyme called Citrate Lyase, which helps turn sugars and starches into fat. Block this enzyme and carbohydrates get diverted into energy production instead of being accumulated as body fat. HCA also has the ability to help you feel satisfied after food making it easier to eat less.
Caffeine
Accelerates fat loss, increases metabolism which means you burn more calories through the day. Increases performance, improves focus and suppresses appetite.
L-Carnitine Tartrate
Responsible for transporting fats into cells where they can be used as energy, will decrease visceral fat (stomach fat), and increase exercise performance.
Bitter Orange peel
Used as an effective stimulant and appetite suppressant.
Green tea Extract
Loaded with antioxidants and nutrients, improves brain function and increases fat burning and physical performance.
Cayenne Pepper
The active ingredient in Cayenne Pepper is Capsicum and is clinically proven for its natural fat burning and anti-inflammatory properties. Also used to improve blood flow, boost the immune system and aid digestion. Studies have shown that supplementing with Cayenne pepper can increase metabolic rate by as much as 25%.
An engine will only run well if you provide it with the right fuel. The same goes for the human body. Eat bad, don't exercise and you cannot look at your best. Provide your body with safe and effective nutrients to aid in fat loss and have long lasting health benefits. Using AdaptoLean as part of a highly nutritious and active fat-loss plan, you can take your body to the limit of low body fat and still remain healthy. Look good feel GREAT.
"Nothing will work unless you do"